Attention Aetna patients: Dr. Griffith is still seeing Aetna patients. Aetna made a clerical error on their end resulting in Dr. Griffith not showing as active in their directory. We have contacted them and are waiting for them to fix their error. Please be assured that Dr. Griffith is still on Aetna and your upcoming visit with Dr. Griffith will be covered. We care about your eye health and we are here to provide the best possible care for your vision. Please call our office at 814-835-8258 if you have any questions.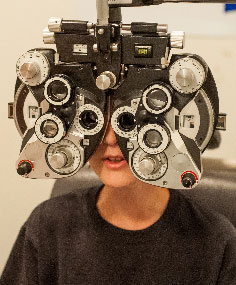 At Griffith Eye Center, Your Vision is Our Mission
Our practice serves the Erie County area with the highest quality care for our patients. We offer personalized attention in a friendly, courteous environment. We will take the time to answer all of your questions, treatment options and how we can help.
Built on the foundation of patient convenience, we serve all of your family's eye care needs under one roof. We specialize in eye/contact lens examinations, cataracts, eye disease management, dry eye management and we have an optical center for your convenience.
Eye Exams
Your vision should be checked routinely at least every two years. A regular, professional eye examination can detect serious eye disease in the early, treatable stages. Call to schedule your exam with Dr. Griffith or Dr. Benacci today.
Dry Eye Management
Our dry eye treatment program is individualized to each patient according to the root cause. We aim to restore or maintain the normal amount of tears in the eye to minimize dryness and discomfort. Book a consultation with one of our eye doctors who will prescribe a customized treatment plan to keep your eyes healthy and comfortable all day, every day.
Eye Disease Diagnosis & Management
Eye conditions such as glaucoma, diabetic retinopathy, macular degeneration and cataracts can become potentially sight-threatening if not detected and treated at an early stage. Our experienced doctors use the latest technology to diagnose and treat eye disease. Eye disease management emphasizes the importance of regular eye exams and follow-up so that proper care can be taken to prevent vision loss in those who have been diagnosed.
Cataract Surgery
We have a wealth of knowledge and clinical experience diagnosing and surgically treating cataracts. We stay on the forefront of the latest medical advances to ensure that every patient that undergoes cataract surgery recovers as quickly and as pain-free as possible.
Dr Griffith provides highly personalized, one-on-one time with each and every patient to ensure the best clinical outcomes. If you are looking for a compassionate, highly experienced cataract surgeon, you have come to the right place. Griffith Eye Center is fully equipped and ready to meet the needs of you and your entire family in a compassionate doctor-patient partnership.
Optical Center
Fitting new glasses requires knowledge and experience in both frame and lens design. Our courteous and experienced staff include board certified opticians who are experts in fitting glasses for children, seniors, and everyone in between. They will help you pick out the most flattering glasses for your face and skin tone and will recommend the best lenses for your lifestyle.
Our eyewear collections include everything from designer, moderate and budget frames custom fit to you. Personalized, precise and quality eyewear is our motto. Your eyes deserve the best.